I recently got an email (ok facebook message) from a dear old friend who has been following my blog. (Thank you so much for reading, by the way! And for your email!)
Anyways, she's getting married (yay!) and was looking for some "don't break the bank" gift ideas (DIY or bought) to give her 10 bridesmaids in addition to their "big" present. So, I thought I'd share some of my suggestions with all of you.
DIY Ideas
Idea #1 - Photo Coasters
A full tutorial is coming your way soon to teach you how to make these adorable photo coasters. But the gist of it is: photos, tiles from Home Depot ($0.16 each), modge podge, and felt glides!
Idea #2 - Paper Hearts
Remember the valentine's day gift I made yesterday? Well how about using black and white photos of you and each bridesmaid for the hearts? On the back, you could writing something like "this gift was made just for you using my favorite picture of us" and include the full photo(s). The accent hearts could be your the color of your dresses with the bridesmaids name.

Idea #3 - Painted Wine/Champagne Glasses
Although I haven't made these (yet!), painted dress wine glasses look fairly easy even for an amateur painter like me! Give each girl two wine glasses: one with their name/bridesmaid dress and one with your name/wedding dress. The girls could drink out of them while you're getting ready the morning of your wedding!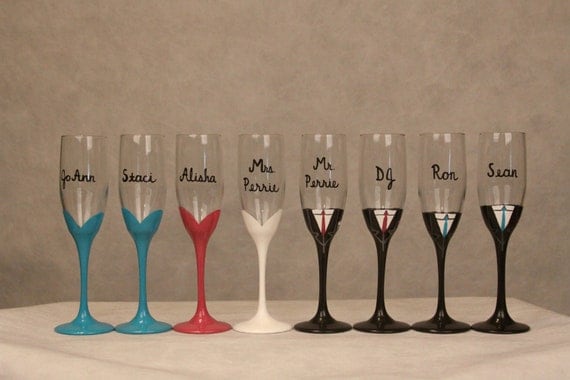 Photo credit: ArtsyAsh101 shop on Etsy
Added bonus...you can make beer ones for the guys!
Everyone loves a good bottle of wine...and all you need to make your own wine bottle labels is powerpoint, full sheet shipping labels and a paper cutter! Or, you can buy a design on Etsy and print them out on your own! Could give this along with #2 or #3!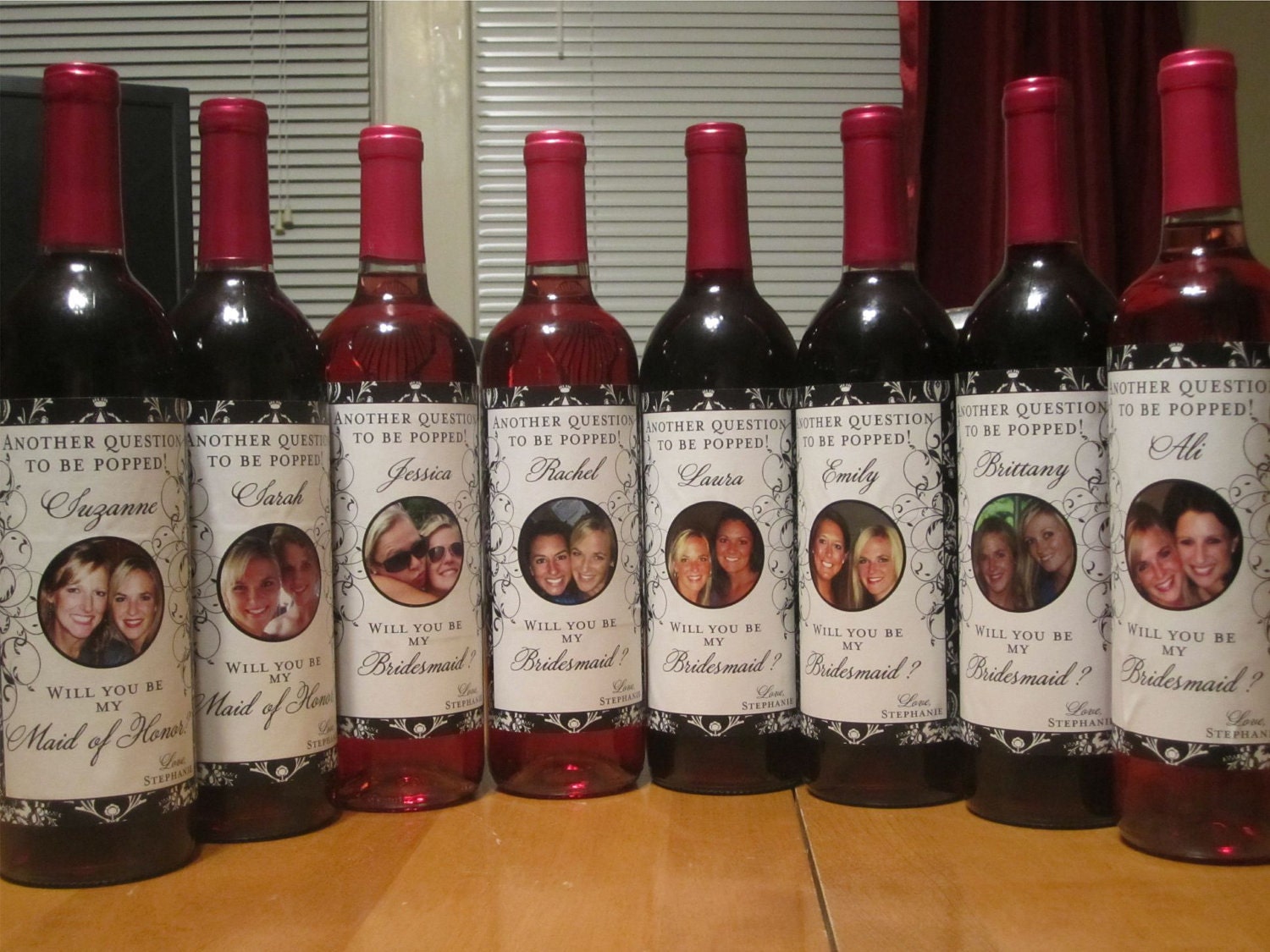 Photo credit: IDoArtsyWeddings shop on Etsy
Idea #5 - Artwork
Frame an enlarged photo (check out Michael's and AC Moore for their 50% off frame sales) or have a canvas
made (there are groupons all the time) of a building / landscape from where you met or know each girl. I know I would to have a picture of JMU's quad hanging in my house and I think that would make a great gift! Write a cute message on the back of the frame with a sparkly gold pen so she'll always remember it was from you!


Gifts to Buy
Idea #6 - Monogrammed Button Down Shirts
A week before my wedding, I realized that I hadn't even thought about what I (or my bridesmaids) should wear the morning of the wedding while getting ready! Such an important part of the day! So many pictures!!
Luckily, my girls pulled through and we picked up matching silk robes! (And I loved all the pictures of us wearing them!)
But I would have loved to have given them something monogrammed or personalized to wear like these adorable button down shirts. H&M, Old Navy, and Target all sell affordable basics...and you can look on Craigslist for a local seamstress who does monogramming!
Idea #7 - Garment / Tote Bags
My sister-in-law, Casey, gave her bridesmaids colorful garment bags with their names on them!
Or you could do a pretty tote bag?
Idea #8 - Bridal Party Hanger
My other sister-in-law, Sara, gave me a personalized hanger that said Mrs. Torok as an engagement gift...and I have since given this gift to my engaged girlfriends! I think it would be equally as cute to give one to all the girls in your bridal party!

Photo credit: Rockabuycreations shop on Etsy

Gag Gift Ideas
Idea #9 - Custom T-Shirts
Urban Outfitter's has a custom tee shop where you can design individual t-shirts to literally say anything! You can use Urban graphic or upload your own. Could be cute for a bachelorette party, too!
Photo credit: Urban Outfitters
Idea #10 - Decopaged Flasks
And because it never hurts to have a emergency flask in your purse!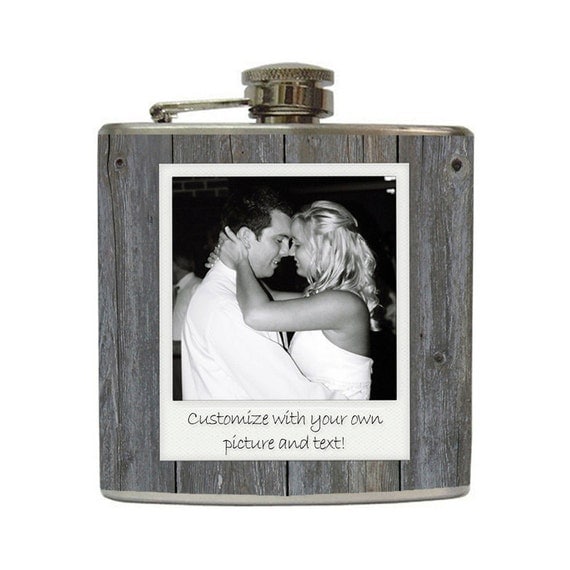 Photo credit: LiquidCourage shop on Etsy
What did you gift your bridal party? I'd love to hear your ideas!