I'll admit, I was a little embarrassed showing up to the hospital to meet my new baby niece empty handed two weeks ago. But who'd of thought she'd come a week early...and when we were 400 miles away in Washington, D.C.?! Not me! Or that she'd arrive at 5am and we'd be there only a few short hours later, still before sun came up?
Plus, it didn't help that my gift was a personalized gift (of course it was!). And the baby actually needed to be born for me to complete said gift! :)
But hey, we're family! They'll get over my minor slip in proper etiquette!!
So anyways, when I was back up in NYC this past weekend I got to spend 3 whole hours with Emma and was so super excited to finally reveal my gift to her (well, her parents).
I made a handmade birth announcement to hang in Emma's nursery!
I actually got the idea off of Etsy. At at Christmas party, a friend of mine was showing me some of her recent Etsy purchases, and one of them was a nursery birth announcement. It looked something along the lines of this:
I kid you not, this is $45 on Etsy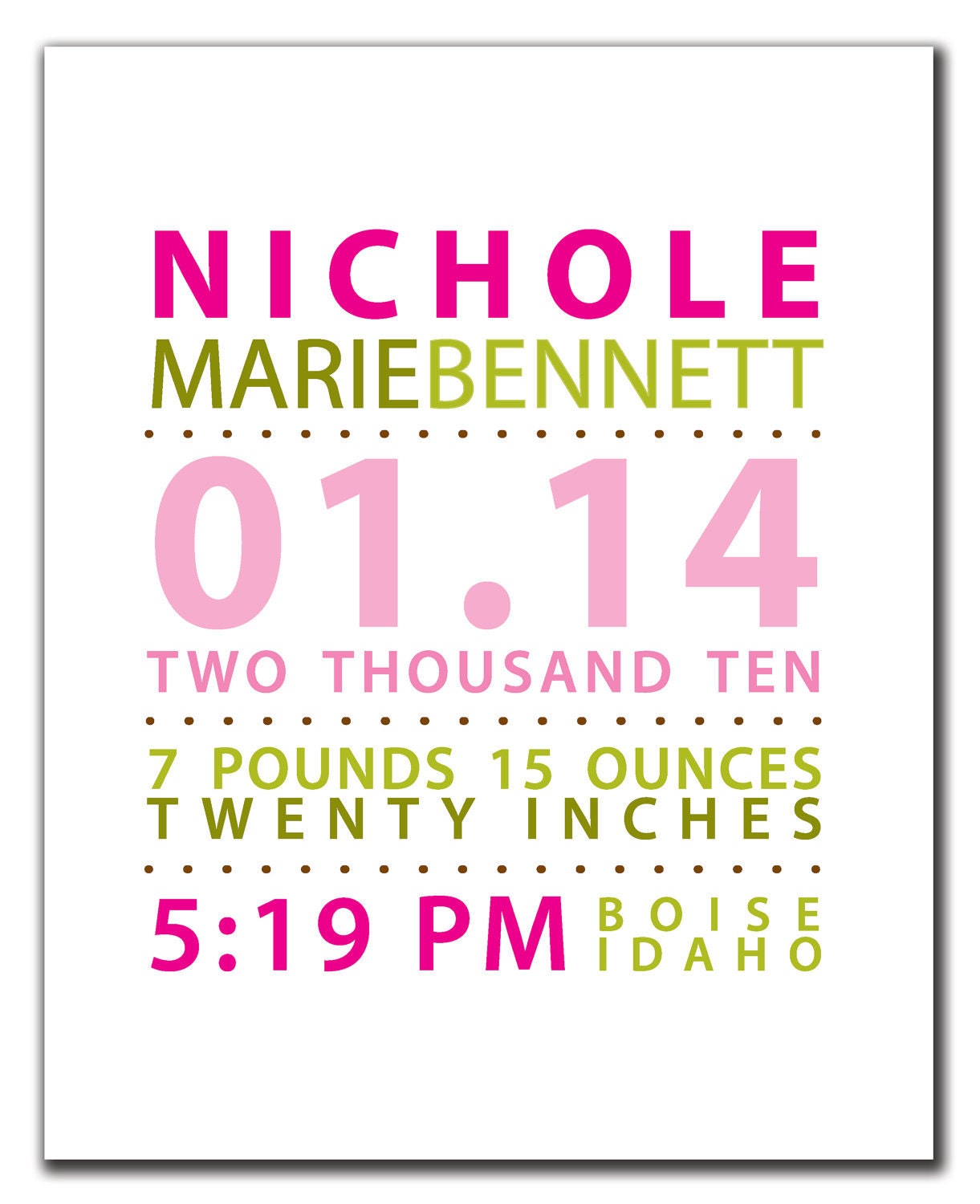 $10
Both very cute! And so thoughtful! But
I took one look and knew immediately that I could make that on my own.
And I could make it better!
I was very happy with the way it turned out - it's cute, sweet and a great way to remember a baby's birth stats. (Am I the only one who knows their birth height/weight/time because they have an engraved picture frame in their room all their life?) And Justin and Sara were thrilled to receive nursery decor, something they said they pretty much forgot about on their registry!
Unfortunately (for you, I'm sorry!) I will not be revelaing my exact DIY instructions... But if you should be so lucky to be expecting a baby in the near future, you can bet that one of these lovelies will be coming your way. And yes - I have a boy version, as well!
Doesn't it look so sweet sitting above Emma's changing table?
I promise more pictures when her nursery is all set up!
P.S. I'm taking orders, as well, if you're in need of a baby present! Message me if you're interested! :)